Excavation & Construction
In addition to Property Maintenance and Home Improvements, Krew Kutz provides all types of residential, commercial and municipal excavating services in the Berkshires. No matter how small or large your project, our expert excavators can handle it! We offer the most cost-effective solutions for your excavation in a timely fashion. As a fully licensed and insured excavation contractor, Krew Kutz will assist you in every step of the project from start to finish, whether it is clearing land for construction, excavating a pond or water feature, demolishing an old barn, retaining walls, drainage, site work, digging a foundation, stump grinding, grading your backyard or waterproofing your basement, count on our experts. For sewer and septic needs, you can count on us for excavation and underground piping.

Krew Kutz also provides land clearing services for those looking to have landscaping added, or construction site preparation, including stump grinding. Call us today for a quote! No job is too big or small for us.
Call Krew Kutz Today! (413) 446-9582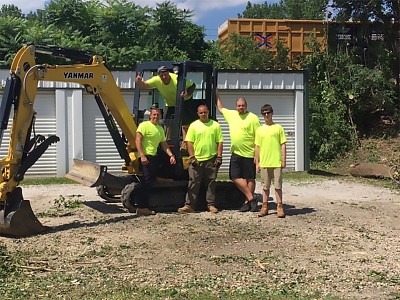 Commercial and Residential Property Maintenance
1317 East Street ~ Pittsfield, MA 01201